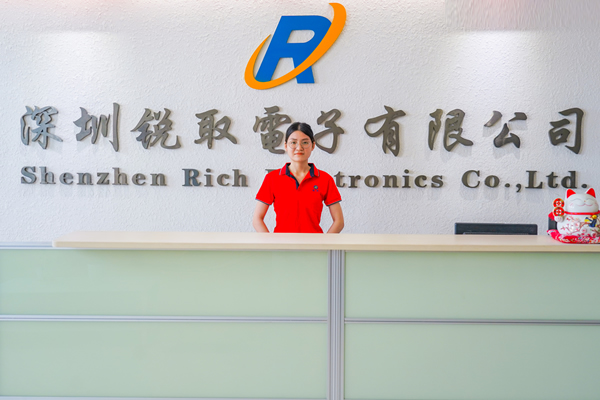 Shenzhen Rich Electronic Co., Ltd.
Located in the beautiful Jingang Science and Technology Park, it is an advanced manufacturer of capacitor production equipment in the Pearl River Delta. The company has a superior geographical location. It not only relies on the subway and bus stops, but also has convenient transportation. Besides, banks, shopping malls, entertainment venues and other ancillary living facilities are also complete. The company mainly produces the taped products of ceramic capacitors and related capacitors (for automatic plug-in machines), including high-frequency ceramic capacitors (CC1), high dielectric ceramic capacitors (CT1), high-voltage ceramic capacitors (CC81 ~ CT81), ultra-high voltage ceramic capacitors (CT82), AC safety regulation ceramic capacitors (CT7 Y1/X1, Y2) and varistors (MY) for electromagnetic interference suppression, with a monthly production and sales of more than 100 million capacitors.
Adhering to the enterprise's intensive development strategy, the company has invested nearly one million yuan to introduce several automatic capacitor production lines and precise measurement and control inspection equipment with the most sophisticated manufacturing process and more stable product quality from the United States, Taiwan and other places. All products are manufactured with high-quality raw materials (Taiwan chips). It is also looking for a number of technicians who have been engaged in the capacitor manufacturing industry for more than 10 years and have rich experience in production technology and quality management to strictly control the quality, To ensure that products fully comply with international standards and meet customer needs. The company always implements the modern management concept, advanced quality control system and perfect customer management system, and takes the lead in passing the ISO9001: 2008 new version quality management system certification, which not only makes the production process and manufacturing process procedural, ensures the product quality, but also greatly improves the production efficiency, reduces the waste of production materials, makes the company's products high-quality and inexpensive, cost-effective, and has been unanimously praised by new and old customers! The company's products are widely used in
Air conditioning, color TV, switching power supply, security control, computer terminal equipment, office automation equipment, car audio, communication terminals (telephone, SPC exchange), energy-saving lamps, small household appliances, other automatic control systems and other fields
And sell well at home and abroad!
We always adhere to:
"Integrity oriented, strict quality control, continuous improvement, customer first"
Our quality policy is to work steadily and serve wholeheartedly! We warmly welcome friends from all walks of life to visit or call us to negotiate, and strive for win-win and common development!